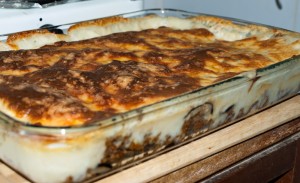 Moussaka is an eggplant stew from the Balkans and the Mediterranean, particularly typical of Greece. The name means "cooled" in Western Egyptian.
The Greek version is the moussaka version known around the world and is presented here before you.
Ingredients:
10 Inch Baking Pan
For the eggplant layer:
3 medium-thick sliced ​​eggplants
1 tablespoon of salt
Canola oil/olive oil for frying
For the meat layer:
500 g of ground meat
1 onion
2 chopped garlic cloves
2 boxes of tomato paste (100 g each)
sweet red pepper (optional)
1 cup of water
Spices: salt, pepper, basil, and more…
Sauce:
30 grams of butter
40 grams of flour = 4 1/2 heaped tablespoons
1/2 liter of milk
1 cup cottage
1 egg
A little bit of grated yellow cheese
salt and pepper (you can also add nutmeg)
Recipe:
Preparing the eggplants:
If you buy eggplants that say they are without bitterness, you can skip the first step and go straight to the next step.
Put the eggplant slices in a bowl, add the salt, cover with water, and boil for about an hour, so that the bitterness comes out of them.
Wash well and dry gently with paper towels.
Heat the oil for frying in a pan and fry the eggplant slices on both sides until golden.
Absorb the excess oil with paper towels.
Meat preparation:
Fry the onion and pepper until they soften.
Add the meat and mix/beat/muddle it until you get a texture of light crumbs.
When the meat gets a lighter color, add tomato paste, spices, and water.
Bring to a boil, reduce the heat and cook on a gentle boil for at least half an hour
Preparation of the sauce:
Melt the butter in a pot and add the flour and mix until you get a batter that separates from the sides of the pot.
Add the milk and bring to a boil while constantly stirring preferably with a whisk.
Add the cup of cottage cheese and mix with a whisk until a uniform and smooth mixture is formed.
Continue cooking until the sauce thickens. Season, and add nutmeg if desired.
Remove from the heat, add an egg and mix well.
Add the grated cheese (optional!)
Assemble:
Arrange half of the eggplants in a tray, and arrange half of the meat on top.
On top of it lay another layer of eggplant (all that is left) and on top of the rest of the meat.
Pour the Sauce on top.
Bake for 30-40 minutes, until the coating, is golden.
Let cool a little and serve.
enjoy your meal!